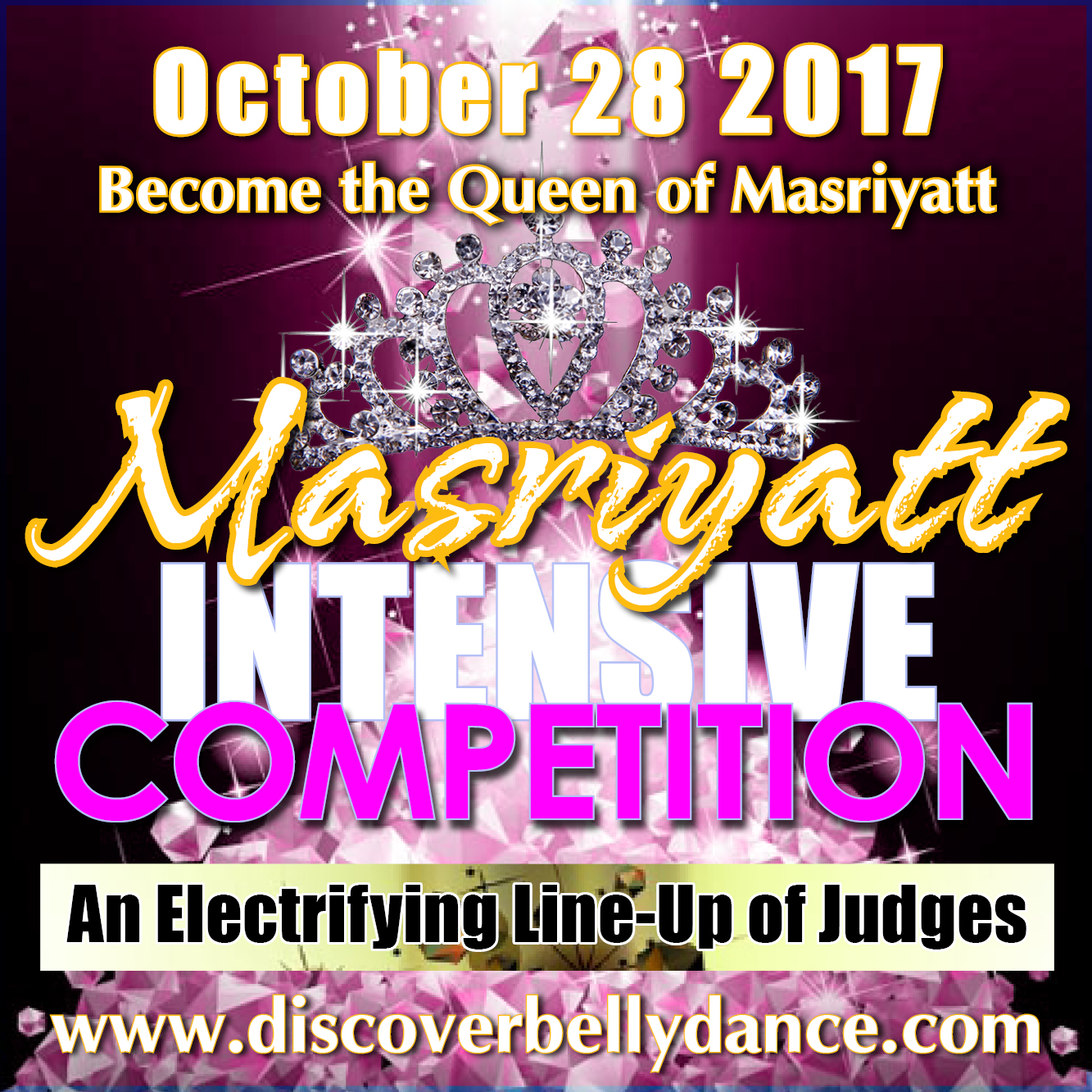 Registration Closing Date is July 31st 2017
The Competition will be Judged by Randa Kamel, Tito Seif, Mohamed Shahin, Nada El Masriya & Dr George Sawa
Prizes:
1st place
Masriyatt crown
Full Package of the 2018 Masriyatt Intensive from the Egyptian Dance Academy
Official Masriyatt Competition 2017 First Place Certificate signed by the Judges
Nada El Masriya's New CD
Randa Kamel's New CD
Mohamed Shahin's New CD
2nd place
Official Masriyatt Competition 2017 Second Place Certificate signed by the Judges
$200 Egyptian Dance Academy gift certificate
Nada El Masriya's New CD
Mohamed Shahin's New CD
3rd place
Official Masriyatt Competition 2017 Third Place Certificate signed by the Judges
Gift box with Belly Dance Goodies
Nada El Masriya's New CD
All Competitors
Official Masriyatt Competition 2017 Competition Certificate signed by the Judges
Judging Criteria
Choreography
Musical interpretation
Technique & use of stage
Stage presence
Make up/Hair and costume
(costume must be appropriate for the type of dance and music)
Feelings and expression
Professionalism
Use of props
Timing and Transition
Masriyatt Competition 2017
Competition Rules and General Conduct
Participants must have signed to take the full package of the Masriyatt Intensive 2017
Registrations will be taken on a first-come, first served basis, application fee of $100 must be paid with the registration.

No entries will be accepted after the deadline of July 31st 2017
There will be no refund of entry fees.
If for any reason, the applicant registration is denied before the competition date, entry fees will be full refunded.
All documents must be signed and received before July 31 2017.
Photo and Music must be received before July 31 2017.
All performers must be at the age of 18 or older at the time of Competition. If the competitor is under the age of 18, her guardian must be present and sign all official documents.
There will not be rehearsals for competitors.
Your entire dance must be performed on the stage.
Performers must be at the Show at least 1 1/2 hours before show starts.
Interruption of Performance

If the interruption is due to the fault of the equipment of our suppliers, performers may restart from the beginning or at the point of interruption. If interruption is due to the failure of the performer's equipment, supplies or music they can either continue or withdraw from the competition. We reserve the rights to stop the performance due to an obvious injury.
All contestants must sign the Registration, Waiver and Acknowledgement. If not, the contestant will be disqualified.
Reasons for Disqualification

Contestants will conduct themselves at all times in a positive and professional manner. The organizers reserve the right to disqualify any contestant whose behavior is intrusive or disruptive to other contestants, the judges or the audience.
Inappropriate behavior on stage will lead to disqualification from the competition.
Inappropriate choreography/music (at the discretion of the Judges)
Dance Experience requirements

All professional level performers must have at least 6 years of professional study or dance experience.
Please Note: Fusion style performances are not permitted in the competition due to the fact that our judges' expertise is in Modern and Traditional Egyptian Belly Dance and Folklore.
Music Requirements

If your music does not fit the required length, reduce the length or you will not be able to compete.

Music must be provided well in advance, at least 2 months (August 31st 2017) before the competition otherwise the performer will be withdrawn from the competition.
Please bring your music the day of the competition in a back-up CD and USB stick as well, in case of technical difficulties.
Music must be of tasteful content, no cursing, explicit or derogatory language.
Music Length – Maximum 4 min length
Videotaping Policy

Videotaping at the event is done by our official videographer, the first place winner will be posted on our official website and youtube channel.
Audience Videotaping is not allowed.
Audience Photography are not allowed.
Participants must wear a proper dance garment, including under garment.

Cover-ups MUST be worn when not performing and in view of the audience.

Participants must use a cover-up before and after the competition.
Contestants agree to abide by all Competition Rules and General Conduct and accept the judging results as final.
Competition Location:
TBD – Gala Show Starts at 7:30pm, Saturday Oct 28 2017
How to Register
Registration Fee is $100
Complete this Registration Form and Waiver and email with a hi-res image of the performer in costume to egyptiandanceacademy@gmail.com. Also include a short biography (not exceeding 60 words) with your registration.
Email the music to the same address in mp3 format.
For more information: email egyptiandanceacademy@gmail.com or call 416 462 3498