Opening Gala Show
7:00 pm
Robert Gill Theatre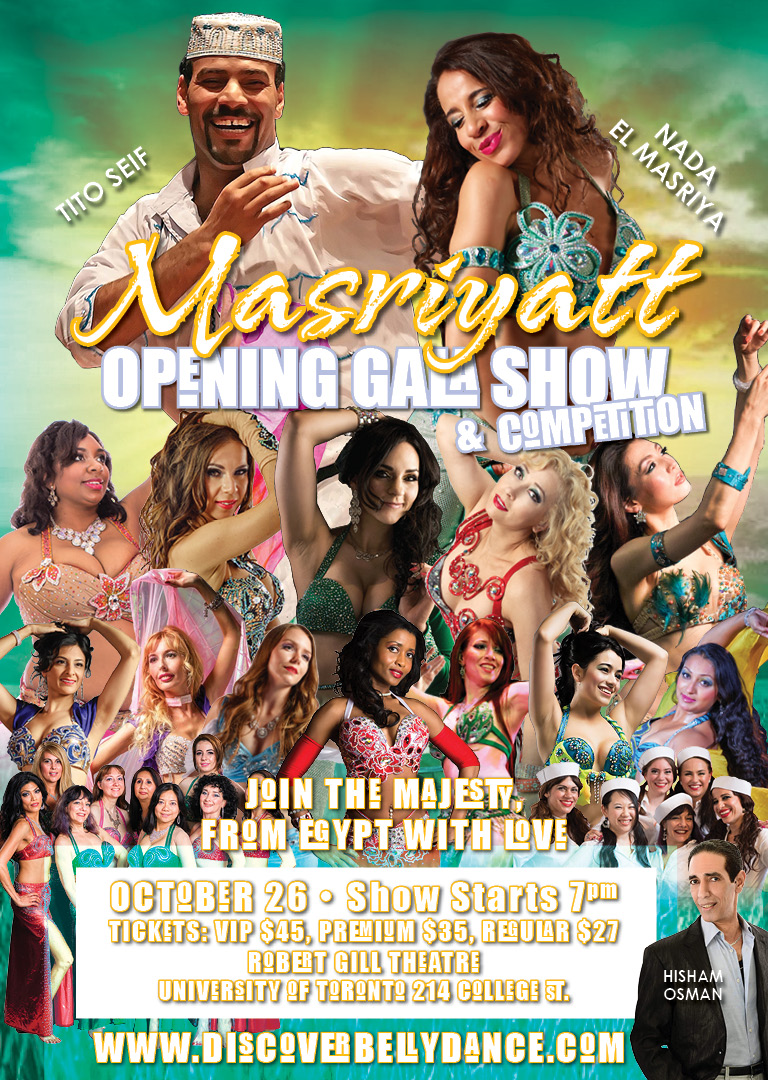 4:00 PM – 6:30 PM
Randa Kamel
Classical Technique mini Combos, to use in your own Choreography
7:00 PM – 7:30 PM
Lecture 1
Randa Kamel and Nada El Masriya about the Baladi style, History, music, costumes and props
7:30 PM – 10:00 PM
Nada El Masriya
Sassy Baladi with Melaya with technique with Choreography
Bring your own Melaya!
First 1/2hr Dr George Sawa talks about the Structure of Baladi Music
9:30 AM – 11:00 AM
Mohamed Shahin
Tips & tricks, Saidi Cane stylized with an Oriental touch – Steps & Combinations
Bring your Cane!
12:00 PM – 2:30 PM
Randa Kamel
Classical technique with Choreography
3:00 PM – 5:00 PM
Tito Seif
Elegant Oriental technique with Choreography
Closing Gala Show
7:30 pm
Robert Gill Theatre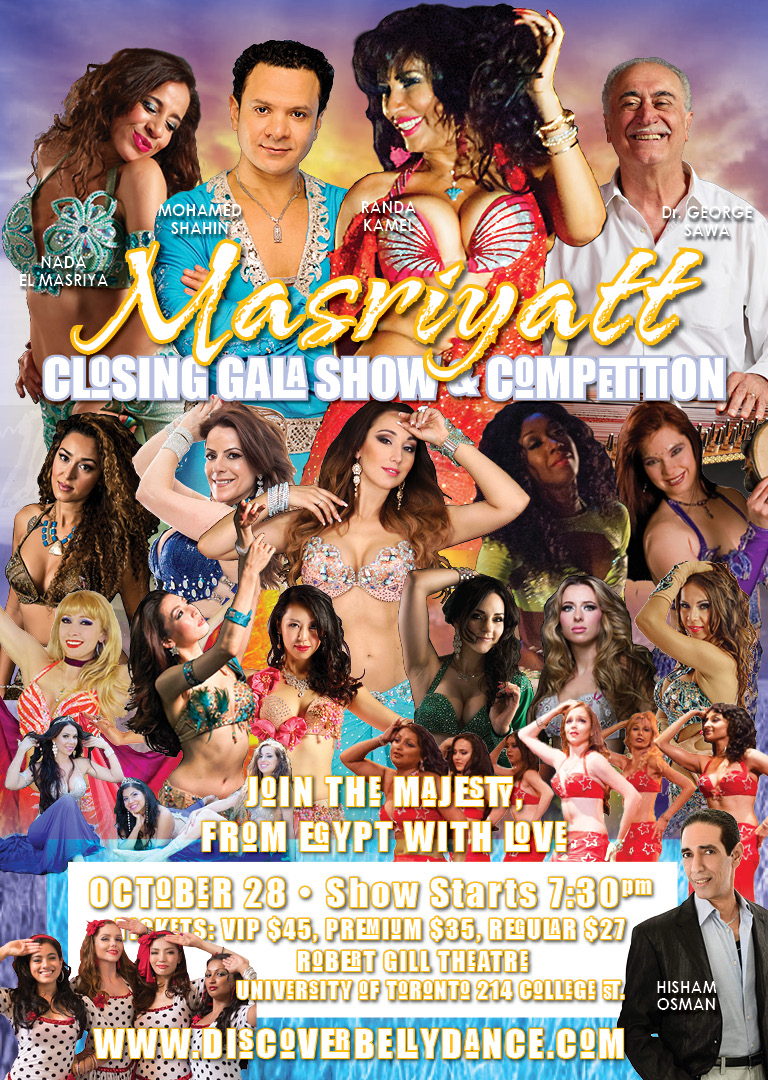 10:00 AM – 12:30 PM
Tito Seif
Classical technique with choreography to the music of the legendary Farid El Attrash
Reminiscent of the Golden Era
1:00 PM – 3:30 PM
Mohamed Shahin
"Spicy & delightful Accordion Baladi technique with Choreography
NEW! FIRST TIME TAUGHT
3:30 PM – 6:00 PM
Randa Kamel
First hour, Awallim style with Sagat technique & history, then enter into the world of Randa's energetic Shabbi!
Bring your Sagat (Zills)
6:00 PM – 7:00 PM
Lecture 2
Questions and Answers with the Stars
"Bring any questions or doubts you might have so we can clear it out for you."
Dr George Sawa explains Maqams and goes into discussion and teaching of them
Masriyatt Closing Dinner Party with the Stars
Location: EDA Studio
Time: 9pm to late
Price: Free to all Masriyatt Participants
Delicious Egyptian Food will be served
Mingle, Socialize and let your hair down Egyptian Style with the Stars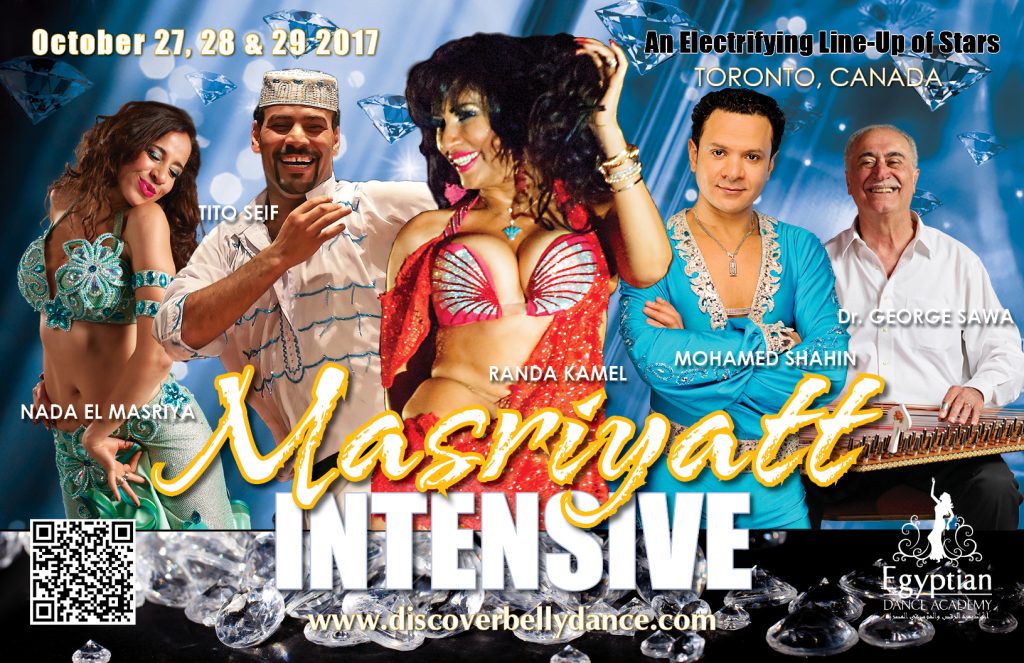 October 26, 27, 28 and 29 2017
Masriyatt Intensive Workshops and Lectures – October 27, 28 & 29 2017
Opening Gala Show and Competition – October 26 2017
Closing Gala Show and Competition – October 28 2017
The Masriyatt Intensive 2017 Workshops will be held at The National Ballet School of Canada, 400 Jarvis Street, in Toronto, Ontario, Canada. Just north of the cross streets of Carlton St and Jarvis St
The Masriyatt Opening and Closing Gala shows will be held at The Robert Gill Theatre, in the University of Toronto – 214 College Street, Toronto, Ontario, Canada – use St. George St. entrance
We recommend staying at the Ramada Plaza at 300 Jarvis st. Only a 5 minute walk from the National Ballet School.