Start that beach body today!
And in 3 months you will be thanking yourself!
Jump into a class of Luxurious Fun and Exquisite Exercise.
Sign Up for your classes online or call us to sign up over the phone 416 462 3498
Beside the obvious Cardio and Fitness,
Belly Dance is considered the most original and organic dance form.
Unlike other dance forms, Belly Dance moves adjust to fit your body, and make your body look elegant and attractive, no matter your body shape.
It is about feeling confident when you dance and feeling good about being a woman.
Start Today!
And in 3 months you will be thanking yourself!!
Start anytime and jump into a class of Luxurious Fun and Exquisite Exercise.
BELLY DANCE CLASS SPRING SCHEDULE
Spring Session March 5th to May 27th 2018
Register over the Phone
416 462 3498
Creative Dance for Young Dancers
Forever Beautiful Belly Dance 50+
Folklore Technique Level 1
Folklore Technique Level 2
Egyptian Academy Student Troupe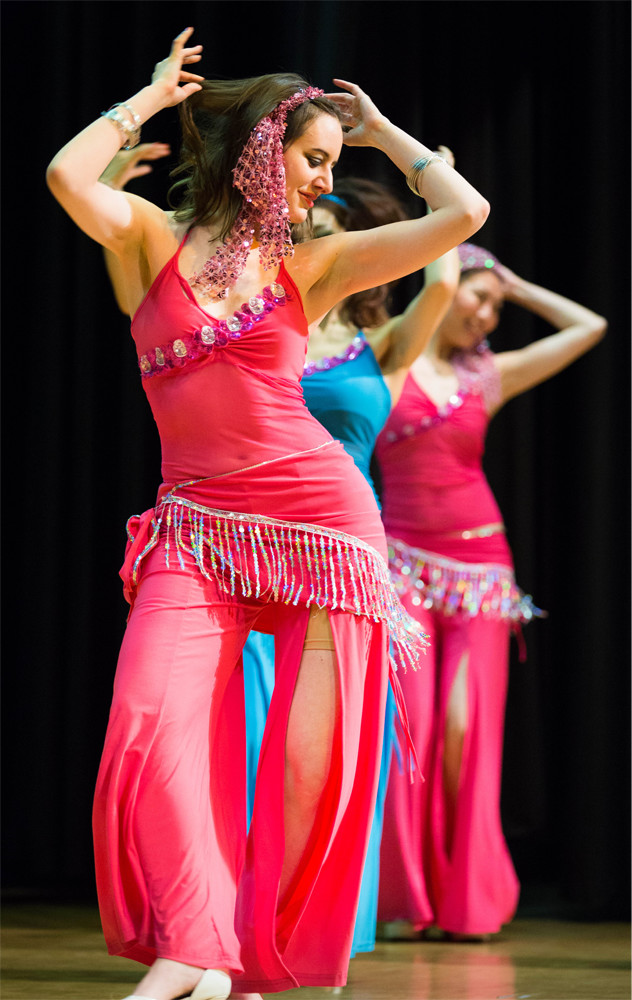 FREQUENTLY ASKED QUESTIONS
How may Classes should I take per week?
This depends on your dance or fitness goals. Some people only come for the great social environment and exercise. That is great for what they are looking for. In general we recommend that students take at least two classes every week. Students dancing with us twice a week experience rapid progress in their dance and fitness goals. Students who use unlimited packages and take 3 or more classes a week show the most growth and progress in their dancing and fitness goals.
What do I wear?
We recommend yoga pants or leggings, a tee shirt or crop top, and a scarf to tie around your hips (you can buy fancy hipscarves at the studio). We dance barefoot.
How long is a class?
All our classes are one hour long.
How do I pay for class?
We accept cash, cheque, Visa or Mastercard. You can register in advance by mail or online with a credit card. You can also register in our online webstore. Remember, by registering early for the session, you receive our early bird promotional offer!
What happens if I miss a class?
That's okay! Do a make-up class! Please simply go to another class at your level within the session. Please note that sessions cannot be extended.
I am a student and on a limited budget but I really want to dance, what can you do for me?
We often need help with studio events and other things the studio does. You can volunteer your time to help us out in exchange for free classes! Contact 416 462 3498 or email egyptiandanceacademy@gmail.com for more information.
Is it possible to arrange a private lesson, a small group lesson, or a lesson for a party?
Yes, we offer Private Lessons with our Studio Instructors. Nada El Masriya is sought after internationally and is regularly teaching private lessons.
Semi-privates are like small classes. One teacher and only 2 or 3 students (up to 5). Contact us to create a special class.
For information on hiring a teacher to come to your bridal shower or birthday party contact us.
416 462 3498 or email egyptiandanceacademy@gmail.com
Is belly dance good exercise?
Yes! It is a medium level aerobic workout, increases core strength, increases flexibility, improves posture and body confidence. Also, the isolations and steps are great for your brain!
It is one of the few dance forms that is healthy for any age.
Belly Dance is a Complete Workout – It provides the 3 elements of Fitness: Cardio, Stretch and Strength.
I grew up belly dancing, or have taken some classes somewhere else, or have studied other forms of dance, do I start with Beginner?
Yes. Our Beginner classes offer an excellent technical breakdown of the belly dance movements. Learning this vocabulary and the posture will make your subsequent classes much more enjoyable. If it is apparent that you should got to a higher level, your instructor will let you know. Feel free to talk to your instructor.
How long does it take to learn belly dance?
After the first six-weeks or so, you will know enough to spice up your social dancing with some belly dance moves! Some of the movements you will pick up quickly, others take more time. The key is patience and regular practice.
Once you move into Continuing Beginner we encourage you to join in studio recitals and perform. We offer opportunities for group and solo performances.
If you want to teach or perform professionally, you should plan on a minimum of three years of serious dance training.
What else goes on at the studio besides the weekly belly dance classes?
We offer Belly Dance workshops, Bootcamps, Specialty classes, Belly Dance Intensives and major Masriyatt Events with local and International instructors such as Randa Kamel, Mohamed Shahin and Doaa Sallam.
Some of our past topics were All About Egyptian Shimmies, Dance to Live Music, Egyptian Folklore and more.
Also, we regularly host Performance events to show off to a wonderful crowd such as Cabaret 101, Hafla and our Student Gala Show.
Check out our EVENTS page for all upcoming events!
Beginner Belly Dance
Level 1 – Beginner Belly Dance (The Fundamentals)
Beginner is a fun, sweaty, dance-filled experience! As you dance the hour away, you will be introduced to the fundamentals of posture, isolations, steps, shimmies, and accents of belly dance. As well, you will start dancing with the elegant and ethereal veil.
This level includes:
1. Isolations
2. Shimmies
3. Posture and Arms
4. Sets of Moves – in each module
5. Introduction to Veil
6. Fitness and Fun
This level has 2 modules and we recommend that dancers take each module at least 2 times before moving on to Continuing Beginner level.
Continuing Beginners
Level 2 – Continuing Beginners (Refining and Building)
Beginners with the fundamentals move on to Continuing Beginner. Using the foundation from beginner, you will start exploring the more complicated basic belly dance movements as well as refining and combining all of the fundamentals. This level introduces the important concept of layering body movements and isolations over a shimmy.
If you are a returning student and are not sure whether you should take continuing beginner or intermediate, please talk to your teacher.
In this level, the finger cymbals (Zills) are introduced.
This level includes:
1. Sets of Moves – in each module
2. Basic Layering of moves introduced in Beginner Level
3. Posture and Arms
4. Introduction to Finger Cymbals (Zills) and Rhythms
5. Introduction to Veil
6. Strengthening Exercises
7. Fitness and Fun
This level has 4 modules and we recommend that dancers take each module at least 2 times before moving on to Bridge to Intermediate.
It is normal for Students take continuing beginner level classes for at least six months.
Bridge to Intermediate
Level 3 – Bridge to Intermediate (Perfecting and Preparing)
This level is a transition and preparation for our advanced levels of Belly Dance. Some students feel they are ready to move to Intermediate but want to be fully prepared for the challenge that awaits. In this level we perfect the Continuing Beginner movements and elaborate upon them while introducing bits of the Intermediate curriculum.
This level includes:
1. Drilling all Continuing Beginner Moves
2. Posture and Arms Development
3. Introducing a few Intermediate Level moves
4. Introduction to Intermediate Level Layering
5. Strengthening Exercises
Although this level has only 1 module, we recommend that dancers repeat it until they feel ready for the Level Evaluation to enter the Intermediate level.
Intermediate
Level 4 – Intermediate (Multi-Layered and Complex)
Students who have completed all the beginner levels and the Bridge to Intermediate class can take the Level Evaluation to move to Intermediate Level.
Intermediate belly dance covers intense multi-layered shimmies, complex combinations, Egyptian rhythm identification, Arabic Music appreciation, cultural understanding, basic finger cymbal use as a prop, challenging advanced movements, fantastic steps, an introduction to Egyptian Folklore as well as an introduction to Belly Dance Choreographies.
Veil and finger cymbals are required for this class.
This level includes:
1. Hipwork (Module 1)
2. Complex Combinations
3. Travelling Steps (Module 2)
4. Challenging Advanced Movements
5. All About Shimmies (Module 3)
6. Basic Finger Cymbal and Veil use as a prop
7. All About Bellywork (Module 4)
8. Introduction to Egyptian Folklore
9. Egyptian rhythm identification and Arabic Music appreciation
10. Super Strengthening Exercises
This level has 4 modules ands we recommend as much repetition as needed to make you feel comfortable with all the amazing content.
Intermediate students stay in this level for an average of one year or longer.
Bridge to Advanced
Bridge to Advanced (Perfecting and Preparing)
Although not a level, Bridge to Advanced is similar to Bridge to Intermediate. This is a preparation for the Advanced Belly dance Level.
This class includes:
1. Complex Combinations
2. Intense Multi-Layered Shimmies
3. Challenging Advanced Movements
4. Basic Finger Cymbal and Veil use as a prop
5. Super Strengthening Exercises
It is not necessary to take Bridge to Advanced to take the Level Evaluation for the Advanced Level.
This level has only 1 module, although we recommend that dancers repeat it until they feel ready to enter the Advanced level.
Advanced
Level 6 – Advanced (Looking Easy and Natural)
Students who have completed all the Intermediate modules can take the Level Evaluation to move on to the Advanced Level.
If you thought you met the limits of Belly Dance, this level lets you know that everything until now was only the beginning. At the advanced level, every move will be integrated, explored and expanded in great detail. Advanced belly dance puts together every skill you have learned so far while adding even more challenging and physically demanding movements. Also, in every class you will learn sets of moves with complex dynamics, as well as making fundamental moves part of your everyday movement vocabulary.
You will learn about the instruments, rhythms, music, culture and the feelings attached to the sounds of Egyptian Music.
In advanced belly dance, we also put an emphasis on developing and identifying style through props, improvisation and choreography.
Upon completion of our Advanced level, students should be able to perform Classical Oriental, Folklore, Modern Pop Belly Dance and use Props in a belly dance show.
Every Session will address specific topics in detail such as:
1. Level Change Movements
2. Complex Multi-Level Combinations
3. Ornamentative Travelling Steps
4. Introduction on how to build Choreographies
5. Combinations of Advanced Movements
6. Complex Hipwork
7. Advanced Egyptian Shimmies
8. Finger Cymbal and Veil use as a prop
9. Basic Improvisation
10. Egyptian Folklore
This level is for on-going and continuous development. Every session will concentrate on different subjects. You can do the advanced class indefinitely as new material is always being introduced and the moves have so much depth. Students take the Advanced level class for an average of one year or more.
Egyptian Folklore (The Origins)
Starting from our Continuing Beginner level we recommend our students to take our Egyptian Folklore Class. All modern belly dance has it's roots and vitality set in Egyptian Folklore.
This class will soften and enhance your moves and technique. It will return your belly dance to it's earthy origins. A professional belly dancer is only considered a professional in Egypt when she has mastered folklore.
There are many styles of Egyptian Folklore. Every city in Egypt has it's own style of Belly Dancing. Baladi, Shabbi, Simsimayya, Alexandrian, Saidi, Gawazi, Siwi, Bedaun, Hagalla, Felahi, Andalusia, and Mambouti just to name the most common.
This class runs continuously, teaching the many techniques and styles of Egyptian Folklore. This class can be taken again and again to your hearts content, and many do.
E.A.S.T. "Egyptian Academy Student Troupe"
You may take this class by invitation only. This class was created to give our advanced students and high intermediates opportunities to learn choreographies and perform live at events.
This is a great way to develop your musical understanding, enhance your stage presence and build your confidence.
This class is fun and for on-going development. It is an important step to becoming a professional dancer and to be able to apprentice in the professional dance company The Egyptian Dance Company.
W.O.W.
W.O.W. stands for "Women of the World". It is a fun-filled, choreography based class aim to empower students who love to perform in addition to the Student Gala. Choreography will include Orientale Raq Sharqi and Fusion style dances.
W.O.W. dancers will also learn to perform with props which may include but not limited to silk veil, fan veil, tambourine,Tunisian jar, basket, hand candle and others.
It is recommended that you possess the following qualities:
1. Attitude and Stage Presence (a must!). If you do not have this quality, not to worry. You will learn them!;
2. Performance Commitment (which may include street festivals and charity events);
3. Technical ability of higher Bridge and beyond.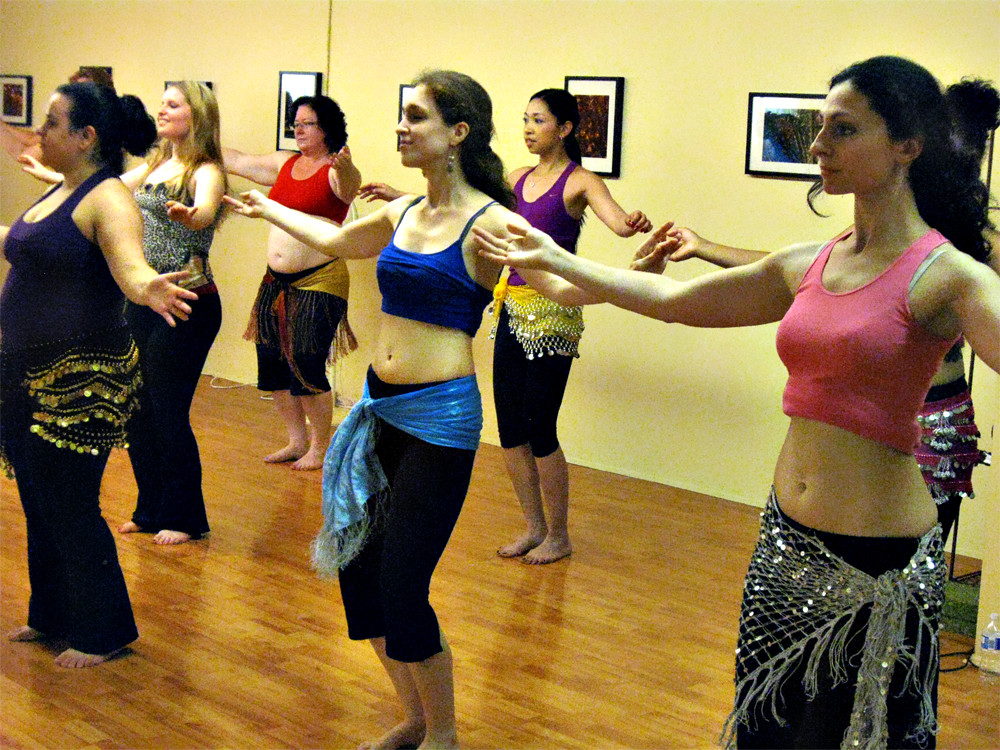 Private lessons are a great way to refine technique and polish performance skills. They are a supplement to your dance training and should be taken along with group lessons. Dancers with a desire to perform or teach should schedule regular private lessons for in-depth feedback. From Beginners to Professionals take private lessons at the Egyptian Dance Academy.
PRIVATE AND SEMI-PRIVATE LESSONS
The Egyptian Dance Academy offers Private and Semi-Private Lessons. Private lessons are one-on-one with a teacher. Semi-Privates are like small group classes up to a maximum of 5 students. We do have Semi-Private lessons for more than 5 students, please contact the studio receptionist for more information.
RATES
Private lessons with our Studio Teachers are $75 an hour.
For Semi-Privates, each additional person increases the price by $10 to a maximum of 5 students.
Private lessons with Nada El Masriya are $90 an hour.
For Semi-Privates, each additional person increases the price by $10 to a maximum of 5 students.
Please add HST to all above rates, and payment must be made in advance.
Travel charges do apply if the lesson is not at one of our studios. There is not additional charge for use of the Studio.
For lessons of more than 5 students you will need to contact the studio receptionist for rates and information.
Choreography Private Lessons
$75 per minute of Choreography with a minimum of 1 Private Lesson to teach per minute of Choreography.
For Choreography Private Lessons with Nada El Masriya it is $125 per minute of Choreography with a minumum of 1 private Lesson at $90 per hour to teach the Choreography.
Choreography Package 1
2 min of Choreo and 2 Private Classes for $250
Choreography Package 2
3 min of Choreo and 3 Private Classes for $375
Choreography Package 3 – with Nada El Masriya
3 min of Choreo and 3 Private Classes for $600
PARTY PACKAGES
We offer packages for parties. In Studio classes are $200 per class (performance including a 1 hour lesson). If you would like a performance and belly dance lesson to add pizazz and fun to your bridal shower, birthday, or girls night out, please see our hire a dancer page.
Contact us for more information or to book a Private lesson.
Call 416 462 3498 or Contact Us Here.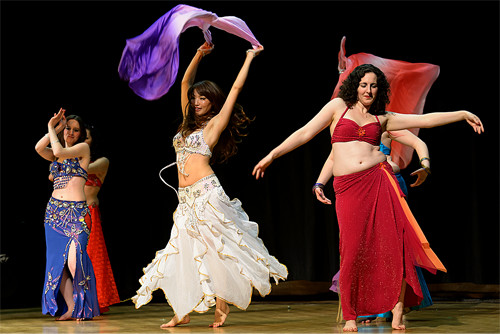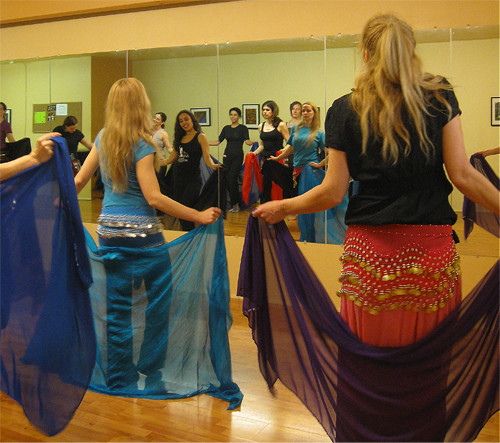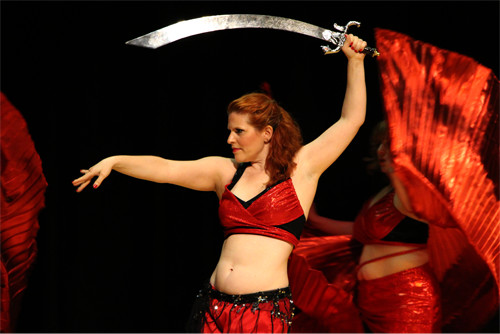 HEALTH AND SAFETY OF BELLY DANCE
We have heard from students of other studios and small belly dance outfits that they have sore backs or knees after belly dancing.
Nada El Masriya always says "Think before you take classes."
It is in your best interest that your teacher has 8 to 10 years of belly dance experience or is monitored and coached by a head belly dancer with at least 12 years of experience. Nada El Masriya has over 17 years of Belly Dance experience, and constantly coaches and trains the teachers of the Egyptian Dance Academy.
It is well know that many health problems can be alleviated by regular exercise, and belly dancing is a low impact way to improve your health, flexibility and mood! If you have a health issue, please inform your teacher before you start and they will take good care of you.
POLICY
PLEASE NOTE
All Payments are non-refundable
Merchandise is non-returnable
Registration is not transferable to another person
Make-Up classes can be done any time within the same session. Any classes unused at the completion of the session will be forfeited.
Memberships is no Contract and no Commitment. To Cancel or Pause your membership we require 30 days notice. You may Pause your membership 3 times a year for 1 month.
MONTHLY MEMBERSHIP – Egyptian Dance Academy Membership
$25 Activation Fee
Membership with the Egyptian Dance Academy is automatic when you purchase our Monthly Membership Classes. Membership is no contract and no commitment. Memberships are not transferable or shareable.
Membership Discount Advantages
As a Member you receive discounts as our gift to you. Membership discounts are only available to in studio purchases.
One Class

Per Week

Membership

Two Classes
Per Week

Membership

Unlimited

Membership

General Selected Merchandise

5% discount

10% discount

15% discount

Selected Full Costumes

2% discount

3% discount

5% discount

Cabaret 101, Hafla, Gala Show

No taxes (13%)

No taxes (13%)

No taxes (13%)

Selected Workshops

5% discount

7% discount

10% discount

Selected Intensives and Bootcamps

5% discount

7% discount

10% discount

Masriyatt

(No Discount)

(No Discount)

(No Discount)
Cancelling or Pausing Memberships
To cancel or pause (suspend or freeze) your membership we require 30 days notice. The membership can only be paused for one month at a time (not 2 or 3 weeks), based on your payment schedule.
There is no cancellation fee, but the activation fee will be charged if a new membership is purchased.
A member has the option to pause their membership 3 times a year for 1 month at a time. There is a reactivation fee of $25 for each pause over 3 times in one year.
CHANGING CLASSES
If you find that your class is too easy or too hard, or if you no longer can do classes on a certain day, contact our FRONT DESK and she will help you switch over to a class that is better suited for you.
MAKING-UP MISSED CLASSES
We understand that things happen and it is possible to miss a class. If you happen to miss a class during the session, you can make-up that class during the same session. You are able to attend any class, of your level or lower, as long as the class has room. We recommend that you make sure that the class is not full before coming to the studio. You can email us at egyptiandanceacademy@gmail.com, check the website for classes or call 416 462 3498. Calling will give you the most up to date information.
UNLIMITED CLASSES
Unlimited Classes Registration
To get the most out of your Belly Dance and Fitness goals we recommend students register as Unlimited Students. Unlimited students can attend any class we offer as long as the class is not full.
When a student purchases unlimited classes, we register them in the 3 classes they most desire, and they are open to attend any other class as long as it is not full. We do recommend that you make sure that the class is not full before coming to the studio.
Unlimited Students must register in Advanced level, Professional level and Troupe classes.
CANCELLATIONS
In case of inclement weather, we cancel classes when the Toronto Public School board closes downtown schools. Notices will be put on the home page of this website as well as on our voice mail. Please call us if you are wondering whether we will cancel classes or not.
MASRIYATT INTENSIVE POLICY
UPGRADING YOUR SPOT
Participants can upgrade their spot to a higher package at any time, limited to availability. However participants cannot downgrade their package. In the event of downgrading see Cancellation policy.
CANCELLATION AND REFUND POLICY
We realize that it is impossible to plan for everything many months in advance and to anticipate what you will be doing during that time in your life. Therefore, we made our refund/ cancelation policy as customer friendly as possible.
CANCELLATION
Due to the limited spaces and high excitement around Masriyatt the deposit is non-refundable.
Cancellation greater than 5 months (May 27 2017) before the Masriyatt Intensive will receive a refund of 50% of the amount paid (minus deposit).
Cancellation 5 to 3 months (May 28 to July 27 2017) before the Masriyatt Intensive will receive a refund of 25% of the amount paid (minus deposit).
Cancellation less than 3 months (after July 27 2017) before the Masriyatt Intensive will not receive a refund.
In case of medical or other emergencies, Participants can transfer their spot to another dancer/participant. However, Masriyatt Intensive management must handle this process in order for the transfer to be valid. Spots cannot be transferred to any future event. Contact us: egyptiandanceacademy@gmail.com
PAYMENT SCHEDULE
Final Payment Installment for the Full Package must be made by July 15th 2017 or your spot will become open to another dancer.
If the Full Package is purchased after July 15th the final payment is due by August 28th, 2017.
The payment plan is only available prior to August 28th, 2017. All purchases after that date must be made in full.
FORCE MAJEURE
Any delay, cancellation or alteration in the performance by Masriyatt Intensive management hereunder shall be excused if and to the extent caused by the occurrence of a Force Majeure.
For purposes of this Agreement, Force Majeure shall mean a cause or event that is not reasonably foreseeable or otherwise caused by or under the control of the Party claiming Force Majeure, including, but not limited to, acts of God, fires, floods, explosions, riots, war, hurricane, sabotage terrorism, vandalism, the venue for the classes or gala show being unavailable for any of the foregoing reasons or because of governmental acts, injunctions, labor strikes, inability to obtain visas for Master Instructors or illness of those or other instructors, and any other fortuitous events that are beyond the reasonable anticipation and control of Masriyatt Intensive management despite its reasonable efforts to prevent, avoid, delay, or mitigate the effect of such acts, events or occurrences, and which events or the effects thereof are not attributable to Masriyatt Intensive and its agents and employees failure to provide services as offered.